Rugby World Cup 2013 Flags Pack, 14 countries - 3 x 5 ft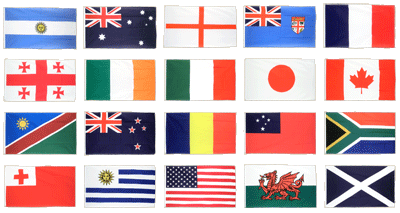 With metal grommets

With double stitched seams
Price : £129.95
incl VAT, excl shipping.
Only 4 left in stock.
UK delivery within 5 working days. Est. 19 - 24 August.
Our flags are made from 100% wind- and weatherproof polyester. On the mast side, the flags are strengthened by a white hem. Two metal inserts in the hem can be used to hoist to the mast. The flags are double hemmed on the other edges for high tear resistance.
The pack includes: Argentina, Australia, Canada, England, Fiji, France, Georgia, Ireland, Italy, Japan, Namibia, New Zealand, Rumania, Samoa, Scotland, South Africa, Tonga, Uruguay, USA and Wales.
Size: approx. 3 ft. x 5 ft. (90 x 150 cm)
Further details: New and original packaging. Very light material. High colour saturation through silk-screen printing on both sides, machine-washable at 86 degrees F (30 degrees C), can be ironed at low temperatures.
Our satisfaction guarantee: Buy rugby flags online from the flag experts at an affordable price and get the best quality with best service.