World Cup Flags Brazil 2014 Bunting Flags - 5.9 x 8.65 inch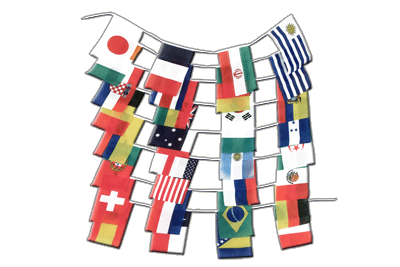 The world cup bunting flags are made from 100% wind- and weatherproof polyester.
Size: approx. 6" x 9" (15 x 22 cm) [flag]
Length: approx. 30 ft. (9 m)
Number of units: 32 flags sewn onto one cord
Countries: Algeria, Argentina, Australia, Belgium, Bosnia-Herzegovina, Brazil, Chile, Costa Rica, Germany, Ecuador, Ivory Coast, England, France, Ghana, Greece, Honduras, Iran, Italy, Japan, Cameroon, Colombia, Croatia, Mexico, Netherlands, Nigeria, Portugal, Russia, Switzerland, Spain, South Korea, Uruguay, USA
Futher details: New and original packaging. Very light material. High colour saturation through silk-screen printing on both sides.
Your bunting flags experts.