Centre - Hand Waving Flag PRO 2x3 ft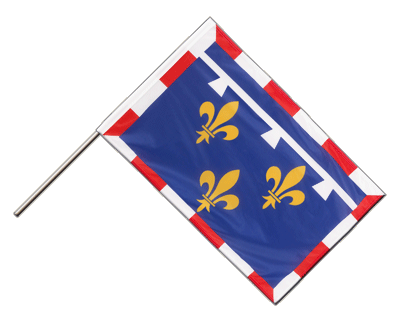 Flag rotates easily while waving
Description
Large France Centre hand waving flag PRO manufactured from high-quality polyester in size 2x3 ft with a removable wooden pole.
On the left side the flag is reinforced with a white pole sleeve closed at the top. The other edges are hemmed all around with double stitching for high tear resistance.
The length of 100 cm is ideal for use as a hand waver. The pole sleeve is not connected to the wood. It is easy to rotate the flag around its entire axis with circular motion.
The flag fabric is heavy and slips quickly back down on the polished wood when holding it up and turning it. It is not possible to release the flag from the stick unintentionally.
Further details:
Strong colours with high colour intensity due to double-sided digital printing.
Washable. Can be ironed at a low temperature.
Details
Item number:
10703
By:
MaxFlags® · Flags for businesses and individuals
Size:
approx 2x3 ft (60 x 90 cm)
Length:
approx 100 cm
Material:
Round beech pole · Flag fabric from the company Georg + Otto Friedrich GmbH · 115gsm high-quality polyester · Very durable and resistant to tearing
Finishing:
White pole sleeve, closed at the top, on a wooden pole with 14 mm diameter
Flag print:
Digitally printed
Delivery:

Delivery in the European Union is within 5 business days.

Orders placed before 4:30 pm will be dispatched the same day.

Related search:
Centre