Euro 2016 - Flags of all football teams

Euro 2016 in France. In this category you find all teams with their national flags in many variations and designs. Our packs are best for decorating large rooms. If you buy from us, you receive multi-buy discounts for more then one product in your cart. For more information, please choose a flag and go to the details page.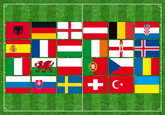 Extended Search: Euro 2016 Flags by Formats. Click the link if you already know our sizes. If not, click an image or a filter to let yourself be inspired.
Items 1 - 60 of 522
Euro 2016 Pack (24 teams)

Football Euro 2016 Decoration. One price, all teams.
Video - Euro 2016 Flags (Standard Size)
For more information, click here: Euro Soccer 2016 Flag Pack - 3x5 ft.