Germany - Vertical Hanging Flag 80 x 200 cm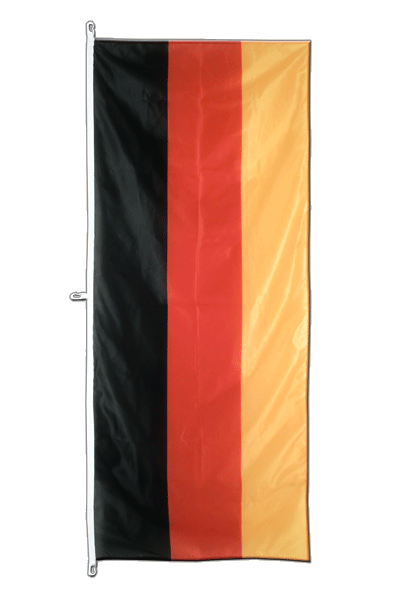 Sold without decoration

Plastic snap hook

Compare flag sizes
Price : £36.30
incl VAT, excl shipping.
Only 2 left in stock.
UK delivery within 5 working days. Est. 12 - 17 August.
Description
Germany flag in vertical format, size 2x6 ft, manufactured from high-quality polyester.
On the pole side (left), the flag is reinforced with a white header, and the other edges have a double stitched hem for high resistance to tearing.
With three plastic carabiner hooks sewn in for hoisting on a flagpole.
Further details:
Strong colours with high colour intensity due to double-sided digital printing.
Washable. Can be ironed at a low temperature.
Details
Item number:
4267
By:
MaxFlags® · Flags for businesses and individuals
Size:
approx 2x6 ft (80 x 200 cm)
Material:
High-quality polyester mesh fabric · digitally printed · approx 115gsm · very durable and resistant to tearing
Accessories:
Double stitched hem · Three plastic carabiner hooks
Specifications:
Business (car sales, hotels, restaurants) and private (house and garden) uses · Weatherproof · High wind resistance · Recommended for flagpoles 16 ft to 20 ft (5 to 6 m) in height
Delivery:

Delivery in the European Union is within 5 business days.

Orders placed before 4:30 pm will be dispatched the same day.

Related search:
Germany